Your
first jump

over the North Shore of Oahu

Join our experienced staff for an adventure you won't forget with spectacular views of North Shore Oahu!
---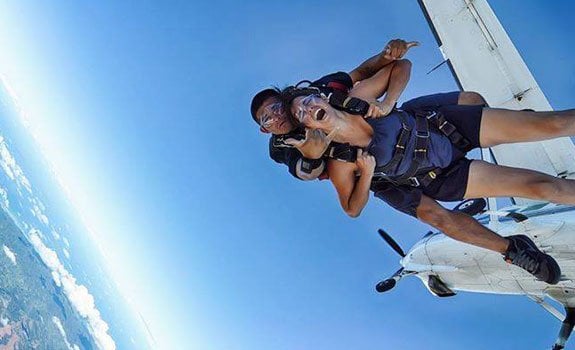 TAKE THE LEAP,
EXPERIENCE THE THRILL

OF SKYDIVING!

Tandem skydives at Pacific Skydiving are perfect for those who long to experience the thrill of skydiving in beautiful Hawaii without having to make a solo jump for your first time. Your instructor will do everything for you, just enjoy the high of the adrenaline rush over the spectacular views until you land safely on the grass!
You will get personalized training to prepare for your jump.
YOU ARE JUMPING WITH THE
BEST
We have an international staff. Your Tandem Instructor is a USPA licensed, highly experienced skydiver with thousands of jumps under his belt. Our most experienced instructor has over 21,000 jumps! Your instructor wears an oversized parachute that is built to safely carry two people.
Your tandem skydive student equipment includes a special harness that attaches at four points to the front of the tandem skydiving instructor. The skydive begins with a team exit from 9-10,000 FT followed by a 15-20 second freefall (REGULAR JUMP), or 14-15,000 FT, followed by a 60+ second freefall (ULTIMATE JUMP). You safely land after a gentle glide over the beautiful North Shore of Oahu.
Typical
timeline

for a tandem skydive

Expect to be at the dropzone 1 to 4h after completing paperwork. The following timeline is an example, times and durations may vary based on factors like weather conditions.
---
Dropzone

CHECK-IN

Go to the check-in window, you will be directed to the classroom. You will watch a short video, sign a legal waiver and choose your jump altitude. You may also choose to get video and/or photos of your skydive at that time.

Dropzone

HANG-OUT AND RELAX

Hangout and relax under our tent with picnic tables. Wait time will vary greatly depending on how many groups are jumping that day and weather conditions. We do our best to give you accurate estimates on your jump time, and we appreciate your patience while we get your jump ready. Average time at the DZ is 1-4 hours.

Gear-up

GET YOUR INSTRUCTION

a) Your name is called to manifest for sticker.
b) Secure all personal belongings, nothing in pockets (lockers on site).
c) Meet your instructor who will explain everything you'll need to know to jump. After the short instruction, we will fit you with a special harness. You will have many opportunities to ask questions and take pictures.

Plane

PLANE RIDE

The plane ride to altitude varies with the type of aircraft and typically takes 15 to 20 minutes. Enjoy the view as you climb up to your chosen altitude (9-10,000ft or 14-15,000ft).

EXIT AND

FREEFALL

The sensation of freefall starts upon exit and is more like body-flying, and is intensely exciting and liberating. You do not feel like you're on a rollercoaster, instead you are floating in the middle of the sky without any the sensation of falling.
Airplane has forward momentum so you never experience the falling sensation.

CANOPY

FLIGHT

Expect to spend 4 to 6 minutes under canopy. You will experience turns and more of the breathtaking views, the blues of the pacific ocean, the greens of the trees and the bustle of the communities and dropzone below, gliding to safe landing in grassy field.

Landing Zone

LANDING

Most landings are quite soft, with many people doing stand-up landings. Sometimes, especially on calm days, the forward speed of the parachute will provide you with a smooth sit-down sliding landing.

Dropzone

REMOVE GEAR AND PREVIEW PHOTOS/VIDEO

If you elected to add photos and/or video to your skydive, we will get you the files on a thumb drive or transfer them via AIRDROP. Review all pictures/video on customer monitors prior to leaving the facility as all sales are final.

WRAP-UP

Don't forget to stop, pay and get your ID. Your credit card has not been charged (you pay after you jump as advertised). Gratuity is graciously welcomed for your instructor and camera flyer. We hope you had an amazing experience! Mahalo for choosing Pacific Skydiving! Don't forget to leave us a review!
---
"WANNA GET
HIGH

... NATURALLY!"
"Gorgeous flight to 14,000ft and tandem skydive in Oahu. The best skydive in Hawaii."
Tandem skydives from 14,000ft!
Highest skydive in Hawaii!